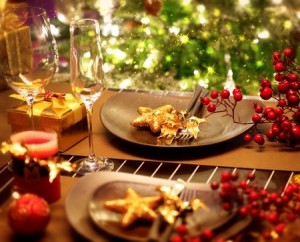 For me it is the wonder and the anticipation of miracles, large and small, that happen.  It is the beauty of the music, the lights, and the frequencies of good will and kindness that permeates the air at this time of year.  It's good food and the warmth of family and friends.
For me, the magic of Christmas evokes a tale I heard from my grandfather who was a veteran of WWI.  I remember a Christmas where, he told me the story of a miracle that he experienced in the middle of a war-torn country.
There had been hard fighting between the Germans and the English and Americans.  Many men died on the battle field and in the trenches.  The landscape was stark, barren and pock-marked by craters caused by artillery shells.  At dark, on Christmas Eve, a cease fire was called, and the wounded and dead were retrieved from the no-man's land between the embattled soldiers trenches.
And then, from the German trenches, a single voice could be heard, "Silent Night, Holy Night…"  One voice after another – from both sides – joined in that sacred song from both sides of the battlefield.  A white flag was raised on each side.  Soon men were emerging from their trenches and making their way across the battlefield to shake the hands of their bitter enemies they had been shooting at just hours earlier.  An unofficial cease-fired was  reached for just a few hours between battle-weary soldiers who chose to honor the season of peace, love and light – even in the midst of a terrible war.
Each time I hear the peaceful hymn of Silent Night, I cannot help but think of that story and the miracle of a cease fire for a whole day, as sworn enemies laid down their weapons, shook hands, and allowed in the energy and compassion that represents the message of Christmas:  peace, good will, love, and hope of a new day.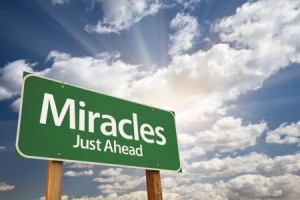 What miracle are you expecting this year?  What magic is trying to show itself in your life?  Are you open to seeing and experiencing these Spirit-filled events?  Can you – will you –  allow yourself to receive and experience the precious gifts of time and of being present to the wonder of this season so you can see all the miracles that are unfolding around you?  And how can you perhaps ignite a small miracle for someone?
Try taking some time each day to really look around you.  Notice the people around you.  See them with the fresh eyes of a child.  Perhaps you might discover someone who could use a kind word, an unexpected cup of coffee, or a tiny, surprise token to brighten their world.
What random act of kindness can you give as your miracle to the world this month?  It doesn't have to cost much, if anything.  It can be the miracle of your smile.  A compliment to a stranger, an unexpected gift for a child.  It could be the gift of your time and money to a shelter, food pantry or soup kitchen.  There is plenty of need in this world that can be allayed by some form of giving.
Some of the magic of the season, I think, is in the giving.  The energy, the frequency of giving, paves the way for receiving.  What are you willing to allow and receive?  More love, more kindness, more self-expression, more financial abundance, more of everything?
There is something just so delicious about the anticipation of something joyful and perhaps a bit mystical that is awaiting us just around the corner.  It is an expectation that anything is possible and in that expectation, the Universe is willing to step up and deliver!
Let's really connect and play in that expectant anticipation and magic of the Christmas Season starting right now.
Wishing you and your family great joy, peace, vibrant health, infinite prosperity, and a very Merry Christmas!