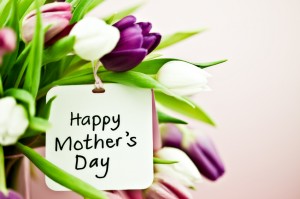 I've been a mother for 34 years this year.  I can honestly say that it has been the toughest job I've ever had – and the most rewarding.  Motherhood, for the most part, is a 24/7 complicated job – made more difficult by the feelings that most mothers experience of not doing it right or "perfectly."
After beating up on myself for so many years for not being a perfect mother, I've come to realize that there is no such things as the "Perfect Mother."  In fact, there is no written rule book, no special instructions when you become a mother.  Yes, there are magazine articles, blog posts, and even some books that can give you parenting tips.  However, because each child and each mother is uniquely different, there is no one recipe that fits all relationships.
What I experienced as a mother was the  sheer terror of wondering if I was completely ruining my children's lives every time I made a parenting decision.  I had a deep fear that I just wasn't up to the tasks that come with motherhood.  That was compounded by the fact that I also struggled with a disabling disease that made me wonder at times if I'd live to see them grown.  I worried that I wasn't able to give them everything they needed – the right schools, the right clothes, the right home in the right neighborhood, blah, blah, blah, blah…. You get the picture.
I also experienced the sheer joy of knowing and loving the amazing, unique Beings that my children are.  I watched in awe as they developed their unique gifts and talents.  I took great pride and delight in watching my daughters take their first steps, learn to read, learn to ride a bike, experience their first day of school, excel at music, at school, at skiing and snowboarding, fall in love, fall out of love, graduate from school, get that first job, fall back in love again, get married, and then have children of their own – along with every milestone in between.
I've watched in wonder and pride as they grew into incredible young women in their own rights.  It has been one of the most incredible gifts and experiences I've ever had.
Motherhood isn't easy.  Often, you yearn for the difficult times to be over (whether that's a moment, a day or years) – and then you yearn to have all that time back, once they've grown and left your home.
Your roles change throughout the years: sole care-giver, cheer-leader, teacher, cook, confidant, antagonist, chauffer, seamstress, disciplinarian, banker, jailer, doctor, nurse, guardian, protector, and hundreds of other titles and roles.  Great mothers are always willing to do the hard work.  While they would like to be their children's best friend, they also know that sometimes, they have to be the heavy in order to provide appropriate boundaries and keep their children safe.
Motherhood will bring up your deepest fears and feelings of personal inadequacy.  I have yet to meet a mother who hasn't wondered if somehow she's a failure.  The role of motherhood is definitely not for the faint of heart.  But it is for the courageous and for those seeking great adventure.
If you find yourself feeling inadequate, fearful, out of your comfort zone – all those deep dark feelings that only motherhood can generate – I would like to suggest you take a few minutes for yourself.  Get centered and take some deep breaths.  Go within and give yourself a big hug of compassion and understanding.  If you need to, do a Quantum Soul Clearing Process to release the negative feelings and judgments that you're experiencing.  Make sure to practice radical self-forgiveness and self-compassion.  Know that you are not alone.  Know that the Divine loves you no matter what.
I'm am so grateful for my own mother and the amazing women I've called grandmother.  I am fortunate to have had such beautiful, intelligent, compassionate, loving women teach me how to become a good human being, and a good mother.  Without their guidance and role modeling, I wouldn't be where I am today.
I want to take the opportunity to honor all the Mothers of the world.  I want to honor you for all you do.  I know the challenges you face and want you to know I value your contribution to the world.  The children you are raising will be the next generation of scientists, doctors, healers, teachers, innovators, leaders, farmers, etc.  You are helping to mold the future of our world.  My hat is off to you!  Keep up the great work.

Be sure to read: