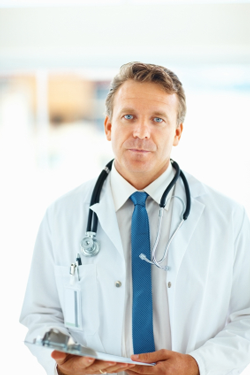 "Well, there's no question, Michelle. You have to have that hip replaced. There are no other options. It's a good thing you're using that walker, otherwise the head of that femur could break off at any moment. And you do NOT want that."
My heart dropped and my pulse kicked into high gear. Another surgery! It has been seven years since I had my knees replaced. I'd hoped I would never have to have another surgery. Yet here I was, sitting in my orthopedic surgeon's office hearing what I took to be a sentencing – and a judgment of my inability to heal myself.
I'd failed again! Where had I gone wrong? What could I have done differently? Why ME? I could feel tears stinging the backs of my eyes, and swallowed hard to keep them from falling. I'd cry later in private. Right now I needed information and I just wanted time to process everything.
My doctor's eyes and demeanor were very compassionate, personable and professional. I felt like I was in extremely competent hands and could trust him completely. I don't give my trust to those in the medical profession lightly, and was surprised to find that I felt really good about my doctor. I wasn't feeling panicky – just a little shocked at how bad the x-rays looked glowing there on the wall.
As I looked at the x-rays, I could clearly see the more than two inches difference in the side-ways tilt of my pelvis, sacrum and low back in the weight-bearing pictures. In a flash, I could see why my chiropractic adjustments haven't held for long. They can't – there's no support. No foundation. Nothing strong or substantial to make the adjustments stay in place. With each step, everything twists and contorts out of place because the bone and skeletal structure just isn't there!
When I got home, I decided it was time to meditate and contemplate what was really going on – on every level. As I was checking in with the Divine, I heard, "Hips are part of your foundation and support." While you stand on your feet and legs, your hips are the foundation for your entire torso and upper body. They are the lower balance point/counter balance point for your shoulders and upper body.
I know from personal experience now that if there is any imbalance in the hips, it throws the entire pelvis, sacrum, low back, upper back and neck out of alignment and balance – and ultimately impacts how your head attaches to the neck.
Bones are the framework for the muscles, tendons, ligaments and tissues to hold their shape. Without bones, we are just little piles of gelatinous tissue.
Louise Hay, in her little blue book, Heal Your Body, says that hip problems represent the "Fear of going forward in major decisions. Nothing to move forward to." And bone problems are about a rebellion to authority. (That certainly resonated for me! lol)
The fact that the head of my femur bone is dissolving and dying tells me that my old foundation is crumbling and no longer supporting me. We make important decisions based on the foundation of our beliefs and experiences. Our past or present definitions, experiences and beliefs create our foundation, and for me, that old foundation has been dissolving for a long time.
I know what I'd like to experience, but like a landscape of sand that suddenly begins to shift because of wind or rain, I've found myself with no sure footing and not trusting that there is a safe place to move. So rather than trust that I'd find the right solution to the pain in my hip and sacrum, I did nothing – and that foundation continued to rot away. And I hadn't replaced it with a new foundation yet.
One of my foundational beliefs is that I can heal my body – and that I have to do it all myself. Because I haven't been able to resolve this situation, I've felt like a failure and a fraud. And the resulting feeling has been one of shame.
I recently spoke with my dear friend and former radio show co-host, Susan Kern. I was telling her how I was feeling. She'd had a surgery last year and had gone through many of the same feelings and experiences as I have been experiencing. She shared with my her wisdom.
I told her – and now I'm telling you – that I have had such profound judgment (and the resulting shame of the judgements) that if I'm such a connected spiritual healer, that I should be able to work a miracle of healing for myself. I feel like I am in service to the planet. I do amazing work with people, who have spectacular results, and I haven't been able to effect a change of my own. Because I have not have that instantaneous remission and the bones completely re-knitting and cartilages re-growing, then I've believed that there's something wrong with ME!
That was when Susan said, "Michelle, surgeons are expressions of the Divine themselves. They too have a mission of service and work their miracles through the science and art of surgery and healing. They cannot fulfill their mission of service if those of us who are carrying these burdens don't show up and allow them to part of the Divine co-creative team to work those miracles with you. You do NOT have to do this yourself!"
She also pointed out that I hold energy for millions of people around the world with my work. My hip is also a metaphor for everyone in the world, as well. We are all working from a foundation that no longer supports us! And as I (and each of us) repair the damage and gain a new foundation, I am (we are) also allowing and modeling for others that there is healing in all forms.
As we work co-creatively as a team with Source and the Unseen, we are also working co-creatively together as a human species to make massive change and shifts. It may look personal, but it really is not. It is quite global because we are all connected.
I started to cry when I got it. We are not meant to do this healing work alone. God works in so many ways – not just through alternative healing methods, but also through modern medical intervention.
I realized that I would never hesitate to see a dentist if I had a cavity or broken tooth. How is seeing a surgeon – or any other type of medical doctor – any different? I had just blinded by my beliefs, along with my past experiences! I realized just how guilty I have been of "spiritual significance."
I thought of the story of the man who, in a flood, calls to God asking for a miracle and to be saved. So God sends someone in a row boat to save the man, but the man refuses and says, "God will save me."
As the waters rise, he calls out again, "Please God, save me!" And God sends someone in a motor boat to pick him up. But the man refuses, saying "God will save me."
Finally the waters rise to the top of the roof and the man again beseeches God, "PLEASE GOD! SAVE ME!" And a helicopter shows up to pick the man up from the roof. But again the man refuses help, saying, "God will save me."
Soon the waters rise higher and the man drowns. As he reaches the Pearly Gates of Heaven, he is righteously indignant with St. Peter. "I was a righteous, man. I prayed and did everything that God asked of me to do. And still I drowned! What did I do to deserve that?!"
St. Peter was quite taken aback and suddenly, the clouds parted and a booming voice filled the heavens. God said, "I sent you a row boat, a speed boat and a helicopter! What more did you want?"
Everything in this world – and everyone in it – has a Divine mission and presence. If we are truly co-creating with the Divine, and we are, there many more answers to our prayers and petitions than we have been willing to see because they don't conform to our beliefs! Like me, how are you not seeing what is right in front of you? How are you refusing help that is part of the Divine plan?
There is no shame in admitting that you can't do it all yourself. We are not designed to do anything by ourselves! We need each other. We sometimes need practical, medical intervention. And when we do, refusing help is refusing the Divine's miracles of healing.
100 years ago, I would have had to simply suffer endlessly. There were no joint replacements. There were not even very good pain relievers or antibiotics!
We are not just spiritual beings. We are also in physical form. All types of healing modalities have been put here on the earth for our good and our use. The journey is learning to find the balance.